Instructors
Our studio offers a range of group and private classes that are always intimate in size. Through specialized training, creativity and many years of experience, our instructors adapt their programs to appropriately challenge and nurture each client.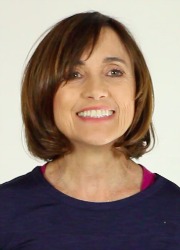 Maria Mankin, Founder
co-owner, senior instructor
Founder Maria Mankin, an Irvington neighborhood resident, was born and raised in Catania, Sicily. From coaching soccer teams to walking the slack-rope in the circus ring, Maria comes to Begin Pilates with over thirty years of experience in bodywork and movement. Today she draws from her diverse background in Stott Pilates, the Feldenkrais technique, and various courses on special populations to create a thoughtful and engaging practice for her students. As a Pilates instructor for the last fifteen years, Maria has trained a wide variety of clients, from the fittest athletes to those who are injured, disabled or elderly.
Maria has spent the past five years on the invention of the Begin Chair™. Produced and developed by Balanced Body™, a California based sustainable corporation, the Begin Chair™ is not only a state-of-the-art office chair that transforms sitting at a desk into an active experience, but it's also a Pilates chair that has been the inspiration for Maria's Grace Pilates Method®, a gentle Pilates program for older populations and for those seeking a rehabilitative approach to Pilates after surgery or injuries. With the Begin Chair™ and the Grace Pilates Method®, Maria and her team have helped many people regain strength and stamina in order to lead the life they want.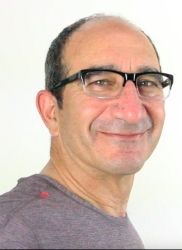 Danny Mankin
co-owner, senior instructor
Danny Mankin, co-owner of Begin Pilates has been studying and practicing yoga for over twenty years and teaching for nine years and is passionate about its benefits.  He has completed teacher training workshops in Iyengar Yoga with Julie Lawrence, Yin Yoga with Sarah Powers and Therapeutic Yoga for Seniors with Kimberly Carson and Carol Krucoff.  Danny has a teaching method that is calm, humorous and compassionate.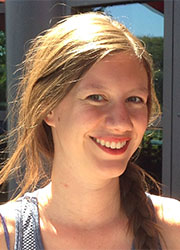 Kacie Dart
My passion is understanding how the human body functions and how the body functions best. I began my Pilates practice 6 years ago to manage my scoliosis and fell in love as my personal practice developed my confidence, sense of self, stability and wellness. These changes influenced me to reassess my life and quit my corporate career to focus on making positive impacts on our world. I became STOTT Pilates certified in October 2013 to influence others to discover their own confidence, wellness and body-mind connection.
When not on the mat I enjoy exploring the (sometimes wet and cold) Pacific Northwest with my dog Theo, playing disc golf, reading and studying biomechanics. Watching my clients transform from a place of pain, discomfort and a sedentary lifestyle to a place of mobility, stability and wellness brings me the greatest joy and inspires me to continue on my own path to wellness.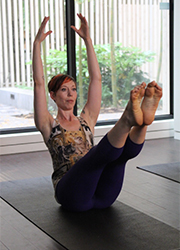 Audra Oakley
Audra was first introduced to Pilates at a young age when her dance instructor suggested she look into it as a way to maintain her strength during a break. To her surprise, it not only helped with strength but helped improve her alignment, control and fluidity of movement. Unfortunately, when dance stopped, so did Pilates. Several years later Audra rediscovered the benefits of Pilates while recovering from a back injury. She found that a regular Pilates practice was paramount for pain management, increased mobility, enhanced strength and finding a deeper connection to her body. Her priorities changed almost instantaneously. She became certified to teach Pilates through the Body Arts and Sciences Institute. A group fitness instructor since 2008, Audra is approachable and takes a compassionate, fun approach to her classes.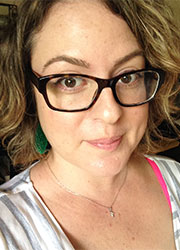 Nicole Wells
Nicole began her Pilates practice in 2010 after a battle with an autoimmune illness, and was inspired by how quickly her muscle tone, mental clarity, and immune system function improved. Naturally, she wanted to share her passion, so she became a certified instructor in 2013 through the Pilates Sports Center in Encino, California. Her hope is to inspire people of all shapes and sizes to become stronger and healthier, and she loves being a part of the healing process with all her clients. When she's not educating herself on all things Pilates, she's writing, reading, taking photos, and walking around Mt. Tabor.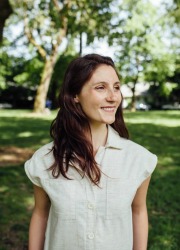 Emily Jones
Emily was introduced to Pilates through her dance training, she found Pilates to be essential to remaining healthy and strong while dancing professionally. Emily has been teaching Pilates since 2010. She is a fully Certified STOTT Pilates Instructor. She is experienced in teaching injury management and rehabilitation, and has worked extensively with an array of health conditions including: osteoporosis, arthritis, disk herniation, sciatica, scoliosis, low back pain, and pre/post-natal conditioning. Emily also specializes in training high-level athletes. She has worked with dancers, runners, skiers, golfers, swimmers, cyclists and other athletes to help them develop beneficial movement patterns and avoid injury. She believes Pilates is a wonderful way for people of any fitness level to gain strength and ease in movement.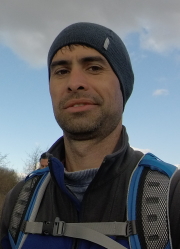 Dan Sepulveda
Dan is a STOTT Certified Pilates instructor.  He has been studying the body and functional movement patterns for the last 4 years and has a great understanding of both.
Dan doesn't come from the typical movement focused background and was actually pretty immobile before discovering Pilates.  He brings all of the knowledge that he has gained through his own personal training – and body restructuring – and loves to share everything he has learned along the way. His belief is that it's never to late to correct imbalances within the body and everyone can enjoy the benefits of reintroducing functional movement back into their lives.
He recently walked the Camino De Santiago in Spain and credits Pilates for helping him endure the over 300 miles he traveled on foot.